Bill Drysdale
---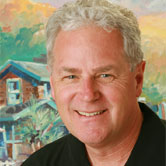 If you get a little nostalgic looking at the artwork of Bill Drysdale, then he's done exactly what he set out to do. Drysdale wants you to feel something when you view his paintings.
"I like to create art that stirs an emotion, like the one you would feel when you hear a favorite classic tune," he says.
Drysdale's art takes you back in time several decades, but it's also an impressive display of unforgettable Americana that has a striking sense of timelessness.
CheckAdvantage is proud to present select works of Bill Drysdale on checks, address labels, and checkbook covers as part of our Licensed Artist Series.
Bill thinks the desire and ability to become an artist may be in his genes.
"I loved drawing as a young boy, and dreamed of becoming an architect or a cartoonist," he recalls.
As it turns out, Drysdale was able to combine both dreams. He first pursued architecture in college, but halfway through realized he couldn't ignore his passion for painting. Bill transferred to Long Beach State, switched his major and "dove into art head first."
Through a 20-year career in architectural illustration, Drysdale was able to master artistic techniques and transitioned easily into fine art. He primarily works with watercolors and describes his art as stylized realism. Drysdale often paints from photographs; he picks out the best elements and adds his own imaginative ideas.
Drysdale wants his paintings to connect with you by bringing back fond memories from your past. They depict laidback summers at the beach, vintage cars, and scenes from his personal travels.
"When you listen to an old song, it's not only that you like the song. Sometimes the song will recapture a moment you had in the past, a time when you were younger and more emotional," Drysdale explains on his website. "I try to recreate those emotions in the viewer."
Some notable names are fans of Drysdale's work. His paintings can be found in the private collections of the owner of Ron Jon's Surf Shop, the co-creator of the hit show Baywatch, and a founding member of the surf rock band The Chantays.
Discover more of his work at drysdalestudio.com where you can also purchase his art for your collection. Plus, connect with Bill Drysdale on Facebook too!