Christopher Jenkins
---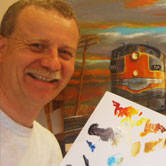 If it moves over the rails, through the sky or on the water - Christopher Jenkins can paint it. His artwork takes you back in time while paying tribute to the machines that have helped make America great.
Jenkins is part artist, part historian and part transportation expert. He actually worked in the transportation industry for almost three decades and now brings classic locomotives, ships and airplanes to life on his canvases.
"When people look at my paintings and see the columns of steam and smoke rising skyward, I hope that they can imagine the sound of the great machines!" Jenkins says.
CheckAdvantage is thrilled to present select works of Christopher Jenkins on checks, address labels, and custom checkbook covers as part of our Licensed Artist Series.
Accuracy is important to Jenkins as he paints. That often means quite a bit of research is required before he can even begin.
"Painting ships, trains or airplanes requires several elements, including accurate proportions, extensive use of perspective, and enough detail to make the subject convincing, but not cluttered," the artist explains on his website.
Jenkins typically begins by sketching his idea in pencil. Then he uses the drawing for a reference, and moves on to the process of painting with oils. This can sometimes last for months, because oil paints take so long to dry and his paintings have many layers. But as you can see, the gorgeous result is well worth the wait.
The Industrial Revolution in America is an inspiration to Chris Jenkins. He strives to convey the power, durability and drama of mighty steam engines, tough little tugboats and vintage airplanes born in that era.
"Though obsolete by modern standards, the machines in my paintings were true triumphs of human ingenuity at the time they were built," he says.
Celebrating those triumphs is the purpose of Jenkins' paintings. When you view his work you almost feel like you're actually standing there in the scene.
Find out more about Chris Jenkins' art when you visit trainsshipsplanes.com. You can also order prints from this artist from Fine Art America.