Kim Crisler
---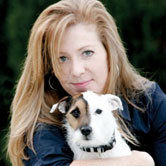 Though Kim Crisler was born loving art, she realized it was a possible career path after attending the Portfolio Center in Atlanta. Since then, she has worked as a graphic designer in multiple ad agencies.
Along the way, she became the proud person—as she puts it—of a Jack Russell Terrier named Lucy. Not only did Lucy become Kim's best friend, she became her muse!
Before long, Kim began a line of designs for her company Gifty Idea that feature her four footed friend on greeting cards and other such products.
"I became one of those 'crazy dog people' and Lucy became the inspiration behind an entire line of dog inspired greeting cards," she says.
Aside from Lucy, Kim also has a soft spot for Lucy's "brother", Oscar--a rambunctious miniature dachshund, but continues to be inspired by her love of all dogs in general.
CheckAdvantage is proud to present designs from Kim Crisler on our checks, address labels, and checkbook covers as part of our Licensed Artist Series.
Kim has been working in the design and creative industry for over 20 years--the last 15 of which as a freelance creative, offering her experience and design expertise to clients industry wide with retail packaging, logo development, brand identity, and other such needs.
Kim continues to work on her photography skills in keeping with the original clean and contemporary look of Gifty Idea pup and kitten inspired photography.
"I love meeting new pups and their parents, and capturing that perfect pup or kitten photo!" she says. "I want to capture the 'cute' for everyone to see."
Gifty Idea offers over 200 images to licensees internationally, in multiple retail categories.
If you're the "proud person" of your own cat or dog, you're sure to love the clean, professional work of Kim Crisler. Check out her products today!
See more of Kim Crisler's work visit her company's website at giftyidea.com.