Victoria Hutto
---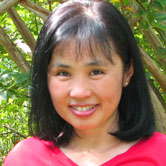 Victoria Hutto can't help herself. She's going to create art whether she wants to or not.
"I don't feel as if being an artist is a choice. It is so much a part of me, that it is a way of living," she says.
She always had a desire to "make things" and remembers being excited to visit her aunt who worked with ceramics and pottery. Victoria loved the chance to help paint the pieces.
As a little girl, she would try drawing characters like Snoopy and Hello Kitty. She later had the opportunity to work with Hello Kitty creator, Sanrio. Today she's developed her own unique and fun-loving style of illustration.
CheckAdvantage is excited to present select works of Victoria Hutto on checks, address labels and checkbook covers as part of our Licensed Artist Series.
Victoria began her career as an artist working mostly with acrylics, but these days she often creates her work digitally. It starts with an idea, which she draws in a sketch pad. Then she brings that idea to life on the computer. Experimenting with other mediums and combining them with digital editing is something she plans to do to keep her work fresh.
Victoria describes what she does as "Collage Art with a positive message." An important part of her creative process is filling her imagination with all sorts of things from her daily life.
"I am inspired by just 'seeing,'" she says. "When I start a new project, I spend time in stores, on the internet, in flea markets, in museums, in the parks, just absorbing visually all that is around me."
Her husband is also an artist with a very different style, and Victoria says they enjoy taking walks and brainstorming together. Anything could find its way into her artwork – from an old barn on the countryside to the sight of her dog taking a nap. Whatever it might be, Victoria hopes that she "sparks a smile."
"It is a powerful feeling to think that something that I have created can bring a bit of joy to another person's life," she says.
Learn more about this artist when you visit victoriahutto.com. Plus Follow Victoria on Facebook to keep in touch!