Beth Logan
---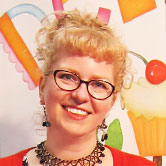 Artist Beth Logan doesn't like to pin herself down to any specific artistic genre or method. Instead, she simply tells people that she draws stuff she likes.
"I've always said I dropped out of art school right before the part where they teach you how to talk about your own art," she says. "I create in several diverse styles and themes, but there is one distinctive thread running throughout: my art tends to be a direct protest to the concept of becoming a boring grown-up."
One look at Beth's delightfully charming creations and you'll realize her art is anything but boring.
CheckAdvantage is excited to present select works of Beth Logan on our personal checks, labels and checkbook covers.
Beth jokes that she decided to become an artist to make up for her lack of skills in other areas.
"I am terrible at sports and have never been able to do a cartwheel, so at an early age I realized I needed to compensate somehow, she says.
But the truth is - being an artist is the only thing she ever wanted to do. "It's what feeds my soul, and I am grateful every day that I can create, and even more that I'm allowed to do it for a living," she adds.
Beth combines the mediums of watercolors, pencil and ink with digital image editing to create her unique pieces. She finds it's the most practical way to work. However, in her spare time she enjoys experimenting with slower mediums, even working with clay and making jewelry.
Her mind is constantly snatching up ideas from the world around her. Beth says just about anything can become an inspiration, and there's not nearly enough time to bring all those idea to life.
"Everything I see, hear, smell, read, taste – my brain is constantly in overdrive wanting to make something from it," she explains. "'Ooh, I want to paint something that color. I need to try and express that same cuteness. How can I recreate this feeling?'"
The feeling she wants you to experience when you see her art is happiness - because she feels happy when she's making it.
"If I can spread that around even a tiny bit - make someone smile for just a moment - I've done my job," Beth says.
Find out more about this artist at artstuffltd.com. You can also check out Beth's Blog and Like her on Facebook.