Beverly Dyer
---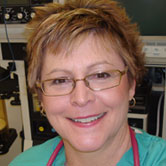 As both a nurse and an artist, Beverly Dyer understands the power of art on the viewer as well as the creator.
She says she "dove into art" as a way to relieve stress in her own life. But she's also witnessed the effects of artwork on others.
"Art is healing," she explains. "It boosts the immune system, eases pain and depression by increasing good brain chemicals, and can be a way to release emotions."
CheckAdvantage is excited to present select works of Beverly Dyer on personal checks, address labels and checkbook covers as part of our Licensed Artist Series.
If you were to walk into Beverly's studio, you'd find supplies for just about every medium. However, she says she has a particular fondness for watercolors.
"I love watercolor, the way the brush glides across the paper, the unpredictability, the element of surprise," she says. "My favorite way to paint is to use brilliant hues that run together in almost abstract splashes of color."
The outdoors and the beauty surrounding her home in Chapel Hill, North Carolina often find their way into her work. Some of her favorite subjects include vibrant flowers and charming songbirds.
"I'm inspired by the poetics of everyday life and nature," Beverly says. "I spend a lot of time sketching in my garden and in a near-by nature preserve."
Her hope is that her paintings bring peace and joy to people like you while encouraging you to slow down and take a closer look at wonder in the world around you.
Quite fittingly – Beverly has a blog called artprescription.com where you can read her writing and get a healthy dose of her art. Plus, you can check out her Etsy Store and connect with Beverly Dyer on Facebook.