Carol Eldridge
---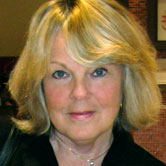 One thing that's never far from artist Carol Eldridge's side is her trusty sketchbook.
She travels all over the country and the world experiencing new people and places. You never really know when life will send a little inspiration your way, and Carol wants to be ready.
She says it may be a little village she's visiting, a pattern on cobblestone streets or something she discovers in an antique shop. Anything and everything can find its way into Carol's lighthearted artwork.
CheckAdvantage is excited to present select works of Carol Eldridge on checks, address labels and custom checkbook covers as part of our Licensed Artist Series.
While her travels tend to spark new ideas, Carol says her home is a major influence on her art as well.
"I also live on the ocean, so many of my designs reflect the love of the beach and growing up on the East Coast of New England," she says.
Her artwork is all hand-painted using a medium called gouache, which is an opaque watercolor. Carol says it translates well when her art is reprinted on different products. She wants to make sure her original vision always shines through.
"It is bright and colorful and full of whimsy. It comes from the heart and it makes people smile when they see it," she says.
Over the years, Carol has built an impressive career as an artist, illustrator and printmaker. Her entrepreneurial spirit allows her to enjoy taking on the business challenges of the licensed art world too. She holds a BFA from the Massachusetts College of Art, and was fortunate to grow up in a community that supported the arts.
From her high school's art program to time spent learning from local artists, Carol says there was always something inside her that drove her to be artistic.
"I have always loved being creative," she says. "When I was a little girl, I went to summer camp and spent a lot of time in the arts and crafts studio when I was there. I was always drawing or painting or making something."
Learn more about this artist when you visit caroleldridgedesigns.com or follow her on Facebook.