Dari Design Studio
---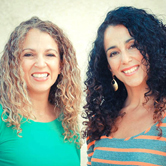 Born in Venezuela, the winding paths of sisters Dariela and Dariana would lead to America where they cofounded their own brand, Dari Design Studio.
While Dariela came to America as part of her career in the corporate design world, it was Dariana's passion for ballet that brought her to Los Angeles where she got into art as well.
"When we first came to this country we would look at a beautiful product in a store and be astonished as to how pretty it was, and at that time it seemed impossible to envision that we would one day be the designers of the patterns in such product," they say.
CheckAdvantage is proud to present art from Dari Design Studio on our checks, address labels, and checkbook covers as part of our Licensed Artist Series.
Both sisters have a background in art with Dariela graduated as a Graphic Designer in Venezuela and Dariana received a BA in Advertising and Marketing.
In 2006, they founded their own paper arts company called "Folklore Eye" which was later rebranded as Dari Design Studio and expanded in scope.
"Modernly eclectic" and sometimes "cute busy" is how the sisters describe their art. Ultimately, they say their work in surface pattern design is a natural extension of their creativity and sense of self.
"I wish somebody introduced us to it when we were 10 years old," they say. "This industry represents almost every designer's dream. The idea of being able to design freely and yet actively participate in the market is a sweet spot to be in for all artists."
Outside of art, both sisters pursue very different passions. Dariana has a fitness and nutrition obsession and loves to put healthy food combinations together while Dariela has kept a personal Spanish-English blog called Mami Talks, where she captures family life, culture, and inspirations.
"Our favorite part is getting to the point where you can't stop looking at it, I don't even want to go to sleep, I just want to stare at it," they say.
With the expertise, style, and drive to make fantastic art, you're sure to fall in love with Dariana and Dariela's style and fascinating story.
If you want to learn more about Dari Design Studio, check out their website at daridesignstudio.com. You can also check out their Facebook and Twitter pages.