Debra Clemente
---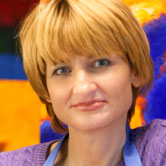 Artist Debra Clemente is always painting. She may not always have her trusty palette knife in hand or a canvas in front of her, but at any given moment, she is working on her next piece.
Some may call it daydreaming, but Clemente says what she's really doing is studying the world around her, watching the they way light interacts with trees and examining shapes and patterns.
As she puts it in a book featuring her oil paintings, she is "striving to understand the truth of nature."
"I'm painting with my eyes and my heart," Clemente explains.
CheckAdvantage is excited to present select works of Debra Clemente on checks, address labels and checkbook covers as part of our Licensed Artist Series.
When she does begin to physically paint, Clemente relies on her memories of the striking scenes she recreates - and works solely with a palette knife. After absorbing the beauty around her, she feels driven to give the ideas it spawns a life of their own.
"Visual recollections continually dance in my head until I give them another place to live," she writes."It seems that I paint these memory paintings forever. First they live in my mind, and when it's their time, they very slowly develop on the canvas."
Clemente also practices plein air painting, in which she paints what she see while standing in the outdoors. However, she feels these pieces have a completely different mood, partly because she is unable to spend as much time bringing them to life.
As a girl, Debra was inspired by artist Bill Harrison, a professional painter and the father of her childhood best friend. She says that early exposure revealed to her the possibilities of creative expression.
Debra has been able to express herself creatively while working alongside her husband in a variety of different business ventures including home design and construction as well as owning a restaurant.
She is very proud of the fact that one of her sunflower field paintings can be found in the Kansas State Capitol building hanging in the governor's office. In addition to her painting, Clemente has written a pair of books about art and faith.
Get the rest of the story on this artist when you visit artistdeb.com where you can inquire about purchasing originals. You can also discover more of her thoughts on art at debraclemente.com.