Designs by Sher
---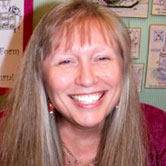 If Carrie Bradshaw and her three girlfriends - Miranda, Samantha and Charlotte - were transformed into illustrations, they'd be quite a lot like the characters featured in the artwork of Carol Sher.
She calls her drawings "artful humor," and it's easy to see why. The art portrays a girly-girl flamboyancy as well as quirky style that make it tough not to smile.
Sher says she pictures everything with a sparkle.
CheckAdvantage is proud to present the illustrations and wit of Carol Sher on personal checks, address labels and checkbook covers as part of our Licensed Artist Series.
Sher's trademark characters are Lulu and Mew, a stylishly savvy woman and her classy kitty cat. She dreamed up the pair when she was only ten years old. They resurfaced as she developed her career.
"I was one of those kids that had a wild imagination and just had to be doing something creative," Sher recalls.
The way we play as children often influences our lives as adults. In Sher's case, she still draws inspiration from a childhood game played with a friend she's known since kindergarten.
"We would pretend we were having a tea party. Our names were Mabel and Harriet, which we still call each other today," says Sher. "We would then make up gossip and talk in haughty voices, calling each other 'Dahling.'"
Sher begins her illustrations in pencil and then finishes off each piece with ink and watercolor paints. The simplicity of starting with pencil and paper allows her to bring an idea to life whenever the mood strikes. That's a good thing, since the many women in Sher's life provide her with an endless stream of lighthearted material.
"The pictures are a combination of myself, my sisters, friends, my mother and many of the women I meet," she explains. "The quotes are not sarcastic or mean spirited. My words are meant to make us laugh and bring a smile."
Find out more about Carol Sher's work when you visit designsbysher.com. There you can also find a variety of merchandise featuring her unique illustrations.