Enzie Shahmiri
---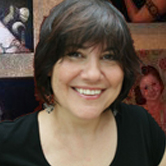 Award-winning artist Enzie Shahmiri's passion for both people and pets comes through loud and clear in her paintings.
As a portrait artist, she's discovered the work can be both challenging as well as rewarding. Shahmiri takes on the task of bringing to life the likeness of someone her client's care about deeply.
"When people start to lose control of their emotions, start to beam or cry, or abruptly give me a bear hug, I know that I have captured the essence of a loved one," says Shahmiri.
CheckAdvantage is thrilled to present select works of Enzie Shahmiri on checks, address labels and checkbook covers as part of our Licensed Artist Series.
Shahmiri was a young girl when she started noticing how her creations brought happiness to others. As she grew, and became a classically trained, contemporary realist artist, more and more people became interested in her paintings.
Today, she not only paints portraits as a career, she also uses her artwork to improve the lives of others. Her love for humanity and our animal friends has led her to donate to charities including Nothing But Nets, which fights malaria among children in Africa, The Shea Center and Boxer Rescue of Los Angeles to name a few.
Shahmiri most often uses oil paints to create her portraits. It's a medium that gives each piece the realistic look she strives for while also giving her plenty of artistic freedom.
"I love to paint in oils because they allow me to create layers of luminous skin and eye colors. When needed, I can also easily build up heavy textures to simulate cloth or the fur of animals," she explains.
Shahmiri's portraits have been featured in a wide variety of art publications and can be found in exhibits and private collections around the world. She is also the Founder and President of the Southern California Portrait Society.
Learn even more about this artist when you visit portraits-by-nc.com. There you can find information on requesting commissioned portraits. A donation to charity will be made when you purchase a painting. Plus, you can also connect with Enzie Shahmiri on Facebook.