Gabriele Utz
---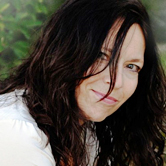 If you want Gabriele Utz to explain her artwork to you, she won't. That's because she believes everyone views art differently.
"Art has many faces," she explains. "You can never interpret it. Why would you? It is very simple: either you like it or not."
What's most important to Utz is that a piece of art elicits some sort of emotion. "If it makes you cry, art has created the feeling. If it makes you laugh, it has created a feeling. If you think it is boring, that's a creation too," she says.
CheckAdvantage is proud to present select works of Gabriele Utz on checks, address labels and checkbook covers as part of our Licensed Artist Series.
Displaying her work on personal checks and address labels is a bit different for Gabriele. That's because she specializes in murals, so her work is often painted on walls and large canvases.
Gabriele is originally from Germany, but she has been living in Los Angeles since 2006. She grew up in a family of artisans, and first pursued a career in writing. She had published seven books in Germany before switching directions and focusing on visual arts, which was always her dream.
As a muralist, a lot of her work gets put on public display and is meant for many people to enjoy. She wants her art to be uplifting and wants people to feel something when they see it.
"Why do we love the old masterpieces?" Gabriele asks. "They are emanating the artist's feeling, and we can feel it. It is more than just a painting. It brings not only aesthetics into the world; it supposes to make us feel better. This is what I want to achieve."
In addition to her murals, Gabriele also participated in the so-called Cow Parade public art exhibit. This popular artistic movement began in Switzerland, where the artist lived for 17 years. The venture, which involves local artists painting and decorating sculptures of cows, inspired similar efforts in cities around the world. The next project was wooden benches where Gabriele participated as well.
In addition to painting, Gabriele calls photography one of her passions and also enjoys experimenting with digital art.
Visit artcomm.us and boysandgirlsmurals.com to view more of Gabriele Utz's work or to request a commissioned piece. You can also connect with this artist on Facebook.