Kala Pohl
---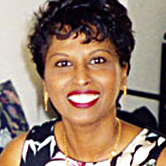 Contemporary folk artist Kala Pohl believes she was destined to be an artist from the day she was born.
Her name, "Kala," actually means "art" in several Indian dialects. Pohl grew up in Malaysia and does not come from an artistic family. Yet she remembers her father supporting her creativity and encouraging her pursuit of art.
"All my paintings start out as a poem in my mind and grow into the full story as I paint," she says.
CheckAdvantage is excited to present select works of Kala Pohl on our personal checks, labels and checkbook covers as part of our Licensed Artist Series.
At first, Pohl's career path took a direction other than art. She moved to San Francisco in the '80s where she worked in the technology sector. Yet Pohl never abandoned her first love. She relocated to beautiful Hawaii in 2002 and began focusing on art full-time.
"Last year I got in touch with a high school classmate who told me that she was not surprised that I eventually became an artist," says Pohl. "She still remembered me sketching in class, especially when I was bored."
Pohl has worked with watercolors and studied the practice of batik - an age-old tradition of creating decorative textiles using wax and dye. While she loved both art forms, she found the process to be time-consuming. Ultimately, she discovered acrylics and found it to be a perfect medium for her, mainly because of the vibrancy of the colors and the fast-drying feature of the paint.
Pohl combines elements of Expressionism in her paintings, and also has a deep appreciation for the works of master Impressionists. She likes to tell people she is serious about her art, but her art is not so serious. You'll notice a whimsical sense of humor on her colorful canvases.
"My best compliment came from a customer who said, 'Your art makes my heart sing,'" Pohl recalls.
Other than painting, Pohl also designs original jewelry and promotes the healing power of the arts. She founded a non-profit organization called Amithi, which is dedicated to using the arts, meditation and healthy living to build stronger communities.
Find out more about the artist when you visit kalapohl.com where you can also purchase original artwork.