Kate Harper
---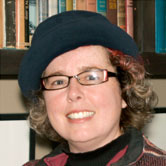 Can you be both comical and inspiring? Artist Kate Harper says "yes," and she's set out to prove it with her unique style of artwork.
"I've always believed if you surround yourself with upbeat messages, your daily life will become inspired," she says. "Since it's hard to find inspirational messages that are also funny, I decided to create my own."
Kate's imaginative combination of eye-catching art and witty words are sure to make you smile!
CheckAdvantage is excited to present select works of Kate Harper on personal checks, address labels and custom checkbook covers as part of our Licensed Artist Series.
Kate Harper's creative process is just as interesting as her final product. She uses random items she calls "found objects" to create original stamps.
"I might take a piece of sandpaper, yarn or mesh, dip it in ink and then stamp it on a piece of paper on my front steps," she explains."After that, I cut them up, add colors and create patterns."
Harper also creates her own, original fonts for her pieces - adding to the originality. She says she gets a kick out of making the ordinary extraordinary. That's why she's also passionate about creating public street art in Berkeley, California where she lives.
"If there is a way to transform something mundane into something edgy, I like to do that," Kate says.
Her designs are sold on greeting cards, of which she has created thousands. You can also get Kate's art on gifts like calendars, magnets and notebooks. You'll find them at recognizable stores including major retailers. Now her personal checks from CheckAdvantage give you another opportunity to spread a little humor and encouragement to people in your life.
Kate is happy to share her knowledge and experience with others. She writes about art licensing and the process of creating greeting cards at her blog, http://kateharperblog.blogspot.com. Kate has also written various eBooks that are available on Amazon.
Discover more about this artist when you visit kateharperdesigns.com where you can find out how to order merchandies featuring her art. Plus keep in touch with Kate on Facebook when you like her artist page.