Ken Powers
---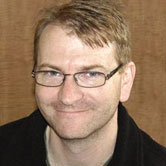 We are all artists as children, but only a select few of us manage to hang on to that sense of wonder and creativity as adults.

Watercolor artist Ken Powers of Tacoma, Washington was fascinated with drawing as a kid, sketching everything from cartoon characters to scenic landscapes. Some of that enthusiasm faded as he grew older. Powers began taking on other interests including technology, music and string instrument repair.

Yet Powers would often find himself watching painters like Bob Ross on public television. The programs sparked a desire to pick up a paintbrush and give it a try. Years later, he would begin experimenting with watercolors, and realized he'd found his true passion.

CheckAdvantage is proud to offer selected works from Ken Powers on our personal checks, address labels and custom checkbook covers.
Powers says the watercolor medium tends to keeps him on his toes as an artist.
"I was always told it was unpredictable, difficult to control, and impossible to master. Although I often find it challenging, it is the challenge and unpredictability that keeps me returning to it," Powers explains.
Ken Powers' artwork, which has been described as "hovering between Impressionism and realism," focuses on the interaction of light with everyday objects. The artist says the effects of light and shadow can often take precedence over the actual subject of the piece.

When you view his art, Powers wants to inspire you to take a closer look at the world around you. Try and find the beauty that illuminates your life. "We often amble through life focused upon matters of short-term importance while becoming increasingly blinded to the many surroundings and beauty that can enhance our very existence," says Powers. "Through art, we can bring a piece of our beautiful world within our personal environment and, in turn, provide a means of daily inspiration."

Besides providing vibrant selections for CheckAdvantage, Ken Powers' artwork can be found in collections around the world. His paintings were used on the set of ABC's Desperate Housewives, and SkinnyArtist.com named Powers one of 21 Artists to Watch in 2012.
You can view more of Ken Powers' work at powersfineart.com.