Linnea Doyle
---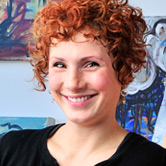 Robots have invaded Linnea Doyle's imagination. Her thoughts are filled with vibrant landscapes and quirky characters from another world, which spill out on to her unique artwork.
She never made a conscious decision to become an artist. A love of color and creating pictures has been with her for as long as she can remember. She feels making art her career was simply a necessity.
"I had to figure out how I could daydream all day as my job," says Doyle.
CheckAdvantage is proud to present select works of Linnea Doyle on checks, address labels and checkbook covers as part of our Licensed Artist Series.
Doyle grew up in a small Minnesota town and now calls Los Angeles home. Today, you can find her working out of her apartment with a view of palm trees and endless sunny days. That's where she spends much of her time bringing the wild world inside her head to life.
As a self-proclaimed "drawer at heart," Doyle often begins her work in a sketchbook. Those ideas later make it on to the canvas where she uses a variety of mediums. Acrylic paints help her produce bigger pictures faster, and markers play an important role. But she also uses charcoals, pastels, colored pencils and inks.
There are stories behind each work Linnea Doyle creates. Whether it comes from the physical world, a certain emotion or the energy of people around her, Doyle says she can be inspired by just about anything.
"It's the best way I can share how I'm feeling and what I'm thinking about, and open up the secrets I have - without revealing too much," she explains. "I cannot go more than a few days without drawing or I'll implode."
Her goal is to make you stop thinking, connect with her art and start smiling.
When she's not working in her studio, you may find Doyle action painting along with rock bands, classical saxophonists and DJs. She has also designed furniture and illustrated children's books.
View more of Linnea Doyle's work at mydetic.com where you can also find out about upcoming shows and request commissioned artwork. Plus - like Inside the Robot on Facebook!