Maria Scrivan
---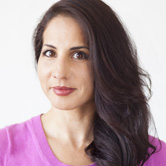 Most artists will tell you they're inspired to create because of all the beauty in the world. Cartoonist Maria Scrivan would agree - that's a great way to stir the imagination.
But there's more to it than that...
Maria also gets ideas and inspiration from the frustrating experiences in her life.
"There is humor to be found everywhere, especially in things that aren't seemingly funny at first glance," she says.
CheckAdvantage is happy to present select works of Maria Scrivan on personal checks, return address labels and custom checkbook covers as part of our Licensed Artist Series.
Maria wanted to be an artist ever since she was old enough to hold a crayon in her hand. She has since traded in her crayon. Now she combines hand-drawn and digital techniques to bring her hilarious illustrations to life.
"I sketch in pencil and ink the images using a dip pen and India ink. The images are then scanned and cleaned up in Photoshop where I apply digital color," Maria says.
Of course, she not only creates the artwork, but dreams up the "gags" as well - whether that's an actual joke or just a silly idea.
"Sometimes the image is just funny by itself and does not have a caption to go with it," Maria explains.
If her work looks familiar, there's a good chance you have seen it before. The many publications and brands that feature Maria's cartoons include Parade Magazine, American Greetings cards, and on Mashable.com where she jokes about the digital age.
"I'm fascinated by the challenges brought on by new technology, social media and pop culture," she says. "I have a great time creating my art. If it can make someone else laugh, all the better!"
When she's not working on her cartoons, you might find Maria exercising outdoors. She says it's one of the most effective ways to energize her creative process. She's completed two Ironman Triathlons and loves running and cycling around New England.
Find out more about this artist when you visit mariascrivan.com where you can also shop for merchandise featuring Maria Scrivan's cartoons. Check out her kids book Dogi the Yogi, featuring yoga-loving dog. Plus, follow Maria Scrivan Cartoons on Facebook to keep in touch.