Paula Ogier
---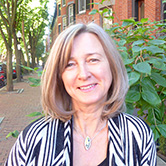 The wisest people among us reach a point where they realize life is too short to be doing something you don't really love.
Boston-based artist Paula Ogier was smart enough to recognize that truth and turn things around.
"There came a point when it dawned on me that making art had almost always taken a back seat to everything else in my life," she says. "It was something I loved but never took seriously, I suspect because I was taught that work isn't supposed to be fun. I saw that it was time to change that, and so I did. I made art-making a priority in my life because I felt that was who I really was."
Today Paula creates pet portraits and original artwork in brilliant colors. And she's having plenty of fun.
CheckAdvantage is excited to present select works from Paula Ogier on checks, labels and checkbook covers as part of our Licensed Artist Series.
Paula believes she always knew the potential to be an artist was inside of her. She says it all began with seeing the world in an imaginative way.
"Eventually, I began to see I could create images that I liked and that other people responded to," Ogier says.
Paula uses the term "digital paint" to describe the medium she uses to produce her vibrant pieces. In the past, she would scan hard-copy art like photography, drawings, paintings and even collages, before artistically manipulating them with Photoshop.
Now she works almost exclusively with digital art, using an electronic pen tablet, which lets her draw free-hand illustrations directly on the computer.
"It turned out to be a really great medium for me because I don't have the luxury of a studio and my space is limited," Ogier says. "I'm also kind of peripatetic by nature, so I like that this medium allows me to work almost anywhere."
Paula enjoys the fact that viewers are often caught off guard by her eye-popping style. But the result is almost always a smile.
"My aspiration is to spread beauty, humor and joy," she explains on her website. "I am less interested in creating art to point out the rotten and unjust things of this world - I leave that noble cause to others. I hope that my art can inspire some happiness."
See more of her work and order your own at paulaogierart.com. Plus, Follow Paula on Facebook too!