Sandrine Pelissier
---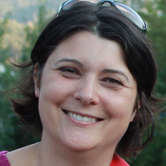 When Sandrine Pelissier made the decision to stay home with her children, she soon realized she needed an outlet for personal expression - something that didn't involve the little ones and provided balance to her life.
She'd been interested in painting and drawing from a young age, but now she was going to get serious about it.
"The irony is that I started by painting watercolor portraits and my first models were my children because I was spending most of my time with them." says Pelissier. "So in a way my art still involved my kids."
What started as family-based creative expression has blossomed into an impressive body of work.
CheckAdvantage is proud to present the art of Sandrine Pelissier on checks, address labels and custom checkbook covers as part of our Licensed Artist Series.
Pelissier grew up in France, but has been living in British Columbia, Canada where she has a studio in North Vancouver.
The artist enjoys experimenting with many different mediums, including watercolor, acrylics and mixed media. Exciting visual patterns in both nature and city life are often what inspire Pelissier to create. She also has a fascination with people and faces, which has led her to paint many portraits since those first works of her children.
Her art has a realistic feel. However, she tends to add a splash of the unreal as well.
"I like to see patterns in nature, work from a picture or from life and alter it a bit to give it just a touch of abstraction," she explains.
Pelissier is a member of the Federation of Canadian Artists and is an author on the subject of art. Her most recent ebook, Taming Watercolor, is a guide for beginners and intermediate painters. She also has a free ebook on mixed media available for download.
Learn more about Sandrine Pelissier's work when you visit watercolorpainting.ca. She paints commissions and is available to teach private classes in her studio.