Shannon Grissom
---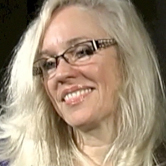 What we are passionate about as children often gets lost after the idea of growing up, being responsible and entering the "real world" gets banged into our brains.
Shannon Grissom is one of the lucky ones. She was able to find her way back to what she truly loves to do.
A painting class she took in her early thirties reminded her of the joy that comes with creative self-expression. "From then on I would get up early every morning and paint before work," says Grissom.
Five years later, she left her day job behind and became a full-time artist...never looking back.
CheckAdvantage is proud to present select works of Shannon Grissom on checks, address labels and checkbook covers as part of our Licensed Artist Series.
Grissom's first creative love was music. But she hasn't abandoned that since she picked up a paintbrush. In fact, she's released two CDs and is working on a third. Her music can be described as a "soulful mix of Americana and blues." Her first CD is available on iTunes.
It doesn't stop with painting and music. Grissom is truly a multi-media artist. She produced and hosted a syndicated television series, Give Your Walls Some Soul, which aired around the country and is still in reruns.
Plus, Grissom is also a published children's author. She wrote and illustrated the book, Monkey Made of Sockies, which is available on Amazon.com. It's quite obvious that Grissom sees the world as her personal playground. As she puts it, she is "like a child who gets lost in all things shiny."
Whatever way Grissom chooses to create, she hopes the result is some unexpected happiness.
"I want people to feel like they've just been hugged by their very favorite person in the whole wide world," she says. "A child once told me that I have 'the power of all giggles.' Her kind words made me smile from the inside out!"
To learn more about Shannon Grissom and all her endeavors, visit shannongrissom.info today.